This line has cornered the market for individuals that like to accentuate natural curves without the risk of surgery.

-Anonymous, OH

Customer Service is awesome! I wasn't happy with the "look" of the item I ordered. I sent a call request and received a call back within the hour! It was followed with an email that included several links with recommendations for different designs that matched the description/fit of what I was for looking for. Exchange process quick and easy.

-E.P., NY

I've been using this company for a few years now and have always been completely satisfied with the quality and style of the products as well as customer service Thanks

-Desiree, PA

Spoke on the phone with Sara. I am a legacy customer and there is alot of new products Sara was a great help and super knowledgable about products. She was also super nice.

-Jessica B., TN

This is my 4th order with LMB, and I can happily share I was comfortable in your products when I weighed 272lbs and was a size 22, and I am equally impressed how your products still are just as amazing now that I am 155lbs and a size 8-10! Thank you for honoring ALL the sizes and shapes we all come in and making us feel beautiful in our own skin! I will also share that I am a Wedding Planner and have recommended your various products to COUNTLESS Brides with almost a 100% satisfaction rate, and in 2 weeks I AM THE BRIDE!!

-Toni P., MN

I purchased my item for my girlfriend who has been bumming out lately because she lost weight and kept saying she lost her butt! I don't think so. But she told me about your company so I went online and had no problem finding what I needed. It was so quick and easy! And to top it off it had to be the fastest delivery time ever! I paid for 2 day shipping and had to change my order at 4pm EST and yet my order was delivered at 9:30AM the next day!! Unbelievable! And the woman who helped me with changing the order was GREAT!! Will definitely buy from them again!

-David L., DE

Love, love, love my new butt! You guys truly rock. Just want you to know what a bright spot you have been in my cancer battle, and I can't thank you enough. I have cancer in my sacrum and now I am able to sit for nearly 45 minutes to enjoy a meal out, and just be normal again. Please keep up the awesome work you are doing! Use this testimonial if you like. I know I am not the only person dealing with something like this, so lets share this.

-Juanita S.

When my order arrived, I spent about two hours trying on the four different pairs i ordered with various pants, skirts and dresses. I really wasn't sure how I felt at first. Considered returning it all. Decided to wait until the next day and I'm so glad I did! I figured out that different pads, (silicone, foam, thickness) looked best when matched with the specific cut of the pants/skirt I have. I wear the silicone pads which sit lower on the buttock (for me) with dress pants for work; thick foam pads in the Perfect Panty which sits higher for jeans and layered thin w/thick foam pads with dresses/skirts. I am 5'3, 165 lbs, 43 y.o. and typical diabetic "apple on a stick" figure with most of my weight in my belly and bust. I have absolutely no butt whatsoever, In fact- its almost concave. My pant size in everything is a 10 petite (petite short if I'm not going to wear heels). I ordered 2 panties in Large and 2 in X-Large. Because I have a big belly, no butt and skinny legs- the low waist panties have been most comfortable and stay in place. I was hoping the high rise ones would cinch my waist but they're panties, not liposuction :) They would be better for an event or night out but not everyday wear. The X-Large for me allow for the thicker pads to be more more comfortable but the large are great too, a bit tighter around the leg. This has been hard on my self image and affected my confidence. I'm happily married (my husband says he loves my body just the way it is) and we have teen-aged daughters and sons- so I really keep it to myself as to not pass my body image issues to my kids. Everyone in my house has noticed a difference in my appearance and commented that I have a "different posture of confidence". My co-workers have asked if I lost weight and/or commented that I look great but can't figure out what's different. My feedback to customers- be realistic with your expectations, size up and read the reviews! For Love my Bubbles- thank you for creating a wonderful product and having exemplary customer service. This was all about me and how I feel about myself. Thank you for the extra boost in my butt and confidence!

-Heather


I am a long term customer with Bubbles and am always happy with their products, they do what they claim to do and the quality is excellent. Recently I had a problem with the International Shipping options on their site, I am in Sydney, Australia. I sent an email to Customer Service explaining my difficulties. I quickly received a detailed reply from Denise S in Customer Service explaining they were experiencing problems with one of their International courier service. I did not receive just one email but three personal emails from Denise, clearly explaining all. Denise sorted my problem quickly and efficiently. I wish all International companies offered the same level of customer service as Bubbles offer. Well done Bubbles and "hats off" to Customer Service and Denise S!

-Jillian, Australia

Denise was my representative today and she was fantastic! She was pleasant, patient and very knowledgeable about the products. I felt very comfortable discussing my choices with her.

-Faye, IL

I bought my thighshapers last week & i love the way I look in my jeans. Wow! instant change. my husband can't keep his hands off my rear.

-Elizabeth, NY

I'm so pleased with the level of service provided by Denise. I'm a first time customer and you can bet that I'm going to be a life long customer now. Denise is a true gem. She's was super helpful and knowledgeable about the product line. Initially I was just toying with the idea of making a purchase but after speaking with Denise, I realized that I really should give Bubbles Body wear a try and forego looking into other booty body wears. Denise really opened my eyes to all the possibilities. I'm already excited about making my next purchase. Customer service is second to none here and that's why I will purchase again from Bubbles. Please thanks Denise on my behalf. I will be singing her praises to all my family and friends.

-Shab A., CA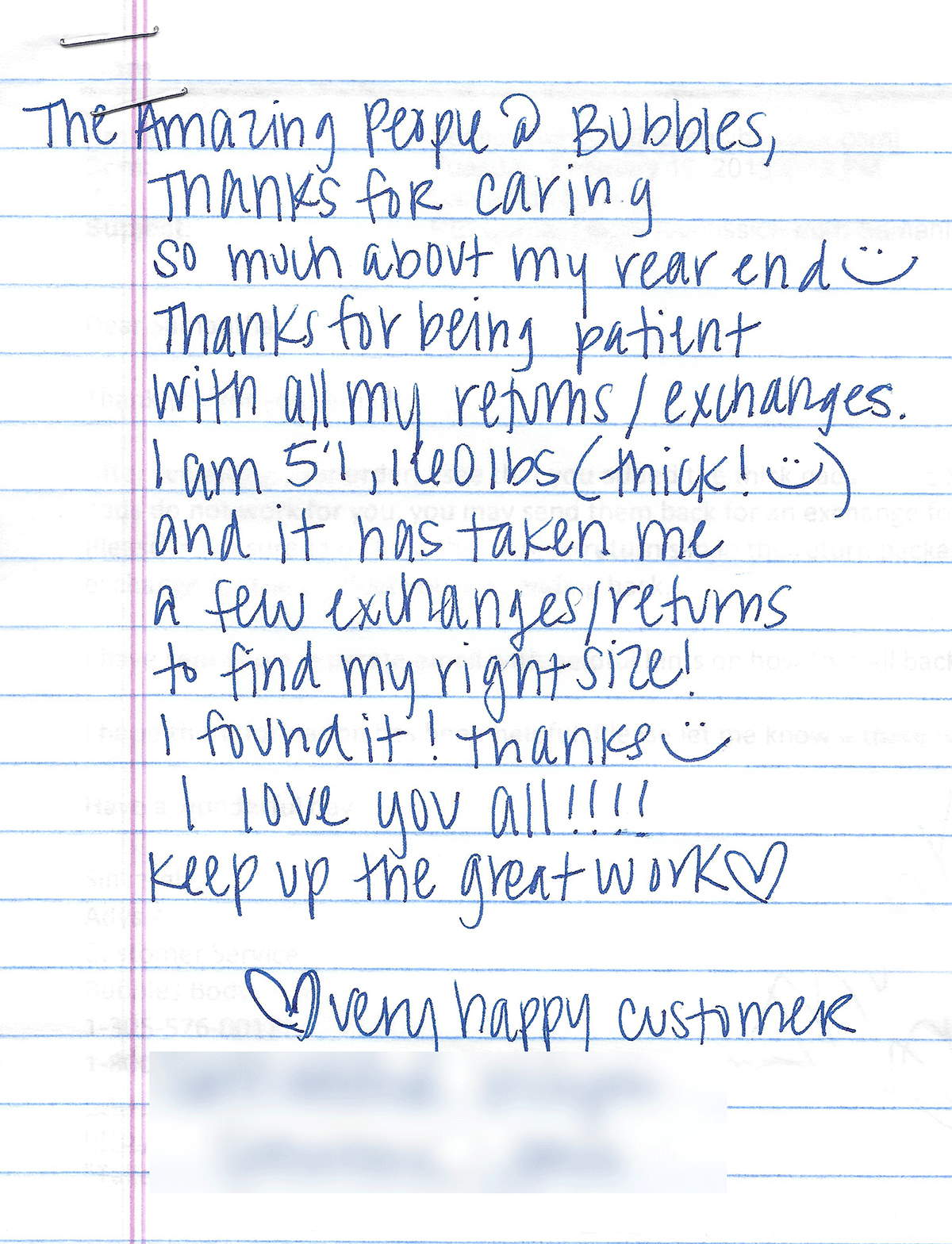 [Bootiful Boyshort] I just wanted to add a comment to your testimonials. When I was on the web searching for clothes one day,I wasn't expecting to run into your website,but I saw it by accident and decided to check it out. When I go to the gym,I'm always working out my legs and of course the derriere, because gravity if you will does fall!)so I checked out your products and was amazed of all the great testimonials you had from customers that bought the boyshort panties,I have to say that's always very reassuring and a great selling strategy to use!) a couple days later I received my product and I didn't get too excited because I haven't always had the greatest experience with online shopping,but I couldn't wait to try them on,and they fit well and looked so natural but with some extra lift,I love them!I love the fact that their comfortable,and they look so natural!) And i'm very pleased with how fast I got my product! Nobody likes to wait that long for their order,but you guys have great service and I will definitely tell others,and I'm going to order again soon! Thank you vet much!

-Mimi, OR

Please know that your customer service reps are absolutely the best; professional, understanding, knowledgeable of the products, kind and un-hurried. I cannot say enough about the quality of service and assistance I received each time I have called! ...I will continue to rave about your company as I have to friends and family here in Michigan. I wish you all a most successful year for 2013.

-Jane L., MI

(Partially blurred to protect customer's privacy.)


ok first of all, my cousin bought padded underwears from somewhere online and gave one to me because she ordered two. I've been wearing the same ones for a long time. i found out about love my bubbles & i have been eyeing on these for a while.. well i finally purchased the boy shorts when they had the free shipping promo for moving to miami. i swear to god i just got my package today and i ordered them literally 3-4 days ago. not only that but these look so much more realistic than the ones i've been wearing. I'm very impressed. thank you!!

-Jennifer, NY

Hello, I am an above-knee amputee and have been one for over 30 years. The top of my prosthetic leg hits right in the middle of my buttocks, and for years I have worn baggy pants and super long tops to hide the frame of my artificial leg. This frame actually flattens the cheek of my butt. I recently ordered your product and it is amazing. I place one removable light silicone pad into the pocket of your boyshort panties and it hides the frame of my leg and fills out my butt perfectly! My clothes look great, and I am thrilled with this product. I am currently spreading the word among my amputee friends and have informed...of your terrific product. They have been my provider for many years and I am hoping they will spread the word as well...Thanking you in advance for giving me the opportunity to expand my wardrobe to include pants that fit and a more fashionable variety of tops

-Antoinette, NY

Finally someone who's actually doing something for all of the women out there who don't want butt augmentation surgery. I'm so excited about the product...

...Sabrina, CA
I have a 21 yr. old daughter that has a flat butt, when I heard about your product I ordered one for her, she thought I was crazy and she didn't think it would work, so I had her try it on and to our amazement her booty was like KAA POW. J.Lo and Beyounce watch out girls. She loves it.

...Pam, NC

I have nothing but great things to say about Bubble pads. Of course not all women have great bodies and I am one of them. I suffered all my life looking an my sisters fill their jeans and pants. I always wanted to wear white fitting jeans but never could. The day I discovered Bubble pads, was one of the best days of my life. I no longer have to wear big dresses and feel ashame when wearing pants. I can now step out there with confidence and a curvy silhouette with the pads on my hips. I feel great I am a size 12/14 and the pads are perfect for my figure. And the best part is that even with white jeans the pads are so naturally fit that I do not have to worry about adjusting them in the dance floor. It is hard to recommend this product to my friends, because it is my best little secret. I simply love them and if you are reading this review, place your order; you will be satisfied.

-Matty, FL

I love the bubble buns boyshorts, love the quality and my butt looks rounder. I'm very petit but I'm not totally flat from behind so my bubble buns boyshort gave me a flattering lift...even with the thin padding...it rightly fits me!!

-Bella, Germany


A while back I posted that I had purchased a second pair of bubbles, but that did not fit the same and I had already tried them on, rendering them not returnable. The company contacted me directly, allowing me to return! Seems I ordered the wrong product. I must write again to say the company has been a real class act, and treated me wonderfully. 5 stars from me on all fronts.....and back (sides) Thank you

-Roberta, CA


I just have to say that this website has been such a blessing for women who weren't blessed with curves or were blessed with too much! lol I love everything I bought, great customer service and super fast shipping. And to make things even better, they have an eBay outlet store. You guys are awesome! I will shop here forever! Thank you!!!

-Suzanne , CT


[The Hippee Padded Brief Panty] Thank God for Bubbles! I have a really strange body shape where my hips seem to curve inwards, which made tight dresses look truly horrendous on me. At 24 years old I was so sick of wearing loose dresses and thought I'd never look good in something tight and sexy, but when I stumbled onto these hip padded briefs I thought I'd give it a shot - and damn! The moment I tried it on I was seriously feeling like Kim Kardashian! I have a huge confidence boost now and its like a whole new world of dress options have been opened up to me. Thank you Bubbles - I can't stop smiling =)

-Kiki, Australia


[BubbleBuns] I didn't expect my new bottom to arrive so soon. Less than a week from USA to England. I've waited longer for local deliveries! Love the padded pants. I never had much of a derriere and age has withered it somewhat. Now I can walk proudly again and sir with considerably more comfort.

-Angela , UK

[Bootiful Boyshorts] In a world of mediocrity, your product quality, fast delivery and great customer service are the standard that all other companies should strive for. All I can say is wow!! I am Latina and naturally top heavy, have always had very narrow hips and a small but perky butt, which is not considered a sexy silhouette in my culture. I have tolerated, lived with and have tried to accept my body. Though I didn't ever like the way my lower half looked in clothing. I have also tried, like others here, to hide and camouflage my boyish rear end, even went so far as to try and "fill out" with socks, shoulder pads, really bad padded underwear, ect. Now I am almost 40 and what little butt I had is melting into my thigh, even though I am at the gym 4-5 days a week. Then, by merciful chance, I found Bubbles Boy Shorts. I tried them on, and it felt as if my whole black and white world turned to color as all the clothing possibilities opened up. At first I felt silly and ashamed because I thought people would notice. But after staring at my ass for a very long time in all kinds of clothing, they looked so natural, in my opinion. I decided to wear the Bubbles Booty boy shorts (with thin pads) with my yoga pants (a very ballsy move with my insecurities).

I got so many stares that I though maybe they looked obvious. But then, the cutest guy at my gym was rubber necking in my direction. Then he came and got on the stair stepper machine behind me, I think just to stare at my butt. I almost passed out with giddiness. Some other guy asked me out to lunch..all in the same hour. I am getting more confident wearing them and am considering switching in the larger silicone pads soon. All I can say is Thank You so very much. You have quite literally changed my insecurities into a happy ending, LOL! no pun intended.

-Claudia, CA


I love the light silicone pads, but most of all I love your excellent Customer Service. I use to shop on another site for my product. These people had the worst customer service, and the product took over a week and a half to get to me each time. You guys are the best I always get my product in 2 days, and if i call i always speak to a live friendly person. For this alone I give you all 1000 stars. You guys cater to your customers and your extremely prompt... excellent company! (please do not show my name or city on my rating)

-Anonymous


Thanks as usual your customer service is the "very best"! ***** 5 star rating!

-Kevin, CA


...I ordered these items as a part of the costume for Hairspray. I cannot tell you enough about how much I appreciate the woman who helped me choose the items. This was not a huge order and she took time and really worked hard to help me find items to try. Service like that is very unusual these days.

-Tracy, AR


I seriously did not believe the hype! I didn't even believe the reviews were real and that is why I am writing one. I got the bubblebuns boy short in black and (as long as you get the right size) you can't even tell you are wearing padded underwear. If you want a natural looking boost in your butt, the smaller pads are the way to go. I put on all different types of pants, even yoga pants. I didn't think my pants would fit over them and still button but they did, not only did they but my pants actually fit better, and were not as tight on my lower back. They even work under yoga pants, they are true to size. I wear a size zero and I got an xsmall and it fit great, I probably could have gotten a size small and been just fine. They look natural, I promise you will not regret this purchase, it is so worth the money! Great material too! I will be ordering more!

-"In LOVE", TX


It goes without saying that I finally have the (appearance of) booty I have always wanted. The experience I'd like to share is about the customer service. I just moved out of state and am still transitioning all of my info to my new address. When CS saw a different billing and shipping address, they put a hold on my order and asked for verification. At first I was annoyed, but they made the process so easy that I was immediately satisfied. I ordered my new fake butt (lol) with express shipping, as I was very enthusiastic about wearing it for my husband's birthday dinner. The day I expected the panty to arrive, UPS said they had delayed the shipment. When I contacted CS to find out how to get a partial reimbursement for shipping costs (2 day shipping to 3 day shipping rates), they offered to refund the entire shipping amount. I have been told by other companies, when dealing with problematic UPS shipping, that I needed to deal with UPS directly. Not the case here! They handled the shipping issue on their end

-Miranda, CA

...thank you for the stellar customer service- such a breath of fresh air! I can't wait to share this experience with every gal I know!

-Miranda, CA


Fast service; products as promised and fit and shape are excellent.

-Eugene, FL


I've worn the Bubble Buns boyshorts with jeans for a couple of years now with satisfaction. (With a butt I look like I have a waist.) I wasn't happy with a new product tried so I emailed suggestions to customer service explaining my preferences. A customer service representative called to discuss options to try to meet my needs. Great customer service to me means a great quality company. Keep up the good work!

-"Happily Bubbly", TX


To everyone involved in this process I love all of you! I have always had a smaller behind, have been poked fun of by my family for many a years. I bought a formal dress and it looked ok, but I knew it would look better if I could fix that area. So I found your website on a random search. The website is very classy and easy to use. The service was great I received my order quickly. I ordered the bubblebuns boy shorts, the material is wonderful, this is a very natural, noticeable look. The only suggestion that I could give is to tell people to buy the 1 inch pads that come as an option, I didn't and wish that I had. I am returning today to try the bubble buns panty and intend to purchase the 1' pad with it today.. I hope to eventually build up several pairs of these.. one for every day of the week.. I don't know how I lived with out these boyshorts. Once again thank you for the wonderful product.. that gives me the confidence to wear anything... I look like Jessica Rabbit!

-Sherry, FL


[Bootiful Boyshorts] Loved them! Paired them with lite silicone pads. EXACTLY WHAT I WANTED & NEEDED! I got my order 3 days after it was placed online! You've just earned yourself a new permanent customer!

-Faith, FL


Attn: Sarah, I wanted to write in and share with you the great customer service I experienced with Denice. It is always good to acknowledge a great employee...in a world that they are far and in between. Denice went over and beyond to accommodate me and I thank her for that.

-William, CA

Wow!!!..I'm 54 yrs old and work out daily at the gym and I've been noticing all these girls young and old with these fabulous round shape butts!!! Well well..now I know why..I ordered the boyshorts xxl on sale not sure of how it would look..I'm surprised and very pleased that I have the same shape bumbum as the girls I've been secretly envious of..Thank-you to customer service who suggested at a very small fee to add the 3 in thick foam padding...It gave me a BIG nicely shaped butt..however,once I get up the nerve to wear it I will at a later date..but tonight I will most definitely have fun wearing my smaller padded boyshorts.

-Necie, NY

I always got compliments on my bubble butt when i was younger. but at the age of 17 I started to gain a lot of weight (33 lbs) that i however was able to lose within a year. there i was, 19 and a great shape but i had lost all of my curves and perkiness. It's not fair. I don't think most of the people are able to understand what this can mean to a young girl. it's much more than "oh her butt got really flat". it's like my life had just begun but my youth has already ended. I felt uncomfortable in everything I wore. I could accept that I wasn't able to wear skirts, leggings and dresses anymore but even when I had jeans on you could clearly see how flat and shapeless my butt was. The media is always trying to sell us that once we lose weight we'll be oh so happy with ourselves but in reality, honestly i felt even worse than before. So you can imagine how thrilled I was when I put on my padded panties. I look so hot in them! I just kept thinking "omg this is how it's supposed to be!". I am so happy and thankful

-M., Germany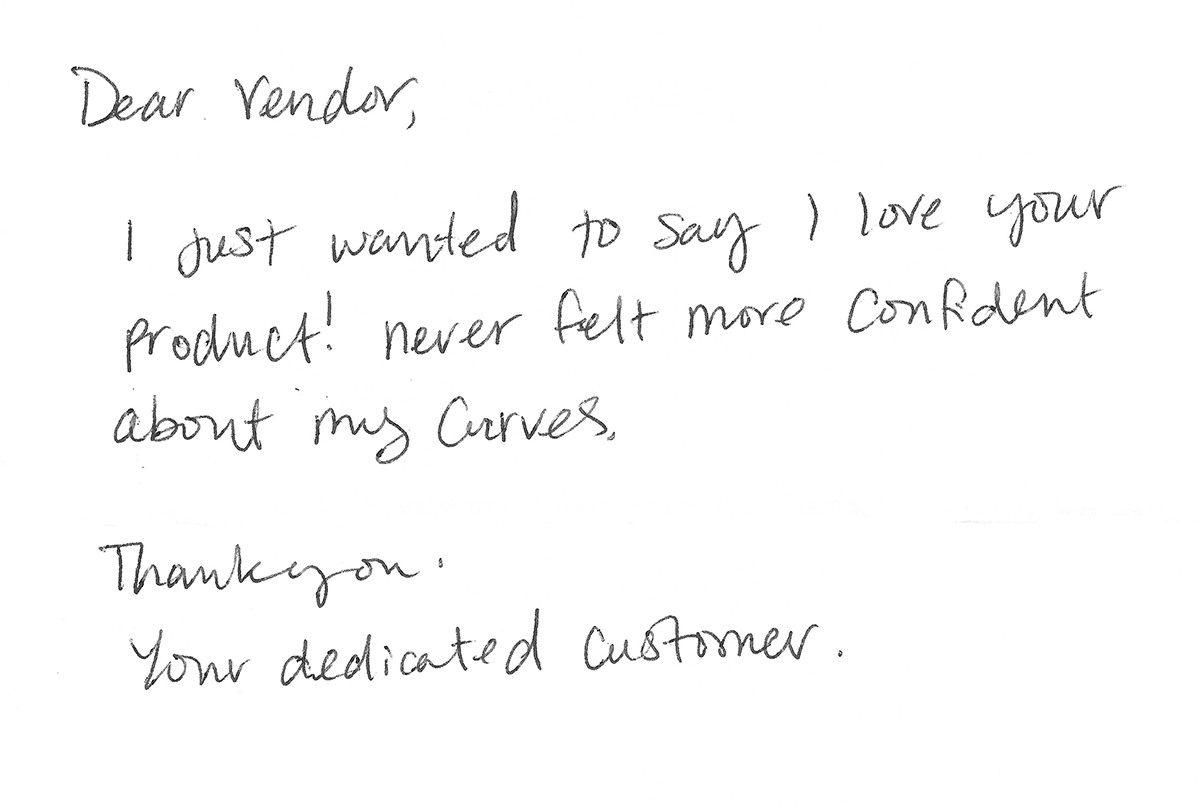 I am sending you this note to tell you how pleased I have been with your company's service policy. Every order is shipped promptly and a prompt refund when necessary, as a customer I do appreciate such service..Regards

-Mrs Adams, UK

I've ordered with u guys before and I have to say your customer service and product quality is second to NONE.

-Shalinda, NY

Thank you!! You Diva's deserve an award for your performance. Enjoy your weekend!

-Joyce, CA

More than happy ! If the next order will be sent as fast as previously order, - you are the best on internet from US. I have ordered goods from other US internet firms (do you want to know which ?) and they are indeed at another price level as regards transportation cost and time to delivery. Impressed, I will do more business with you and also tell my surroundings about you! From Norway best regards, Arild

-Arild, Norway

Since I have very bad rheumatoid arthritis, and other medical problems, your padded panties have me me feel like a "whole woman". I am a loyal customer, and I appreciate you kindness and concern...I love all your products. Keep up the good work!! Thank you. Ronnie

-Ronnie

[Bootiful Boyshorts] Hi there..love my products and your great customer service! I just read your website..FINNISH speaking operators! ...this is not the usual place nor the operators speaking in Finnish! WOW! Kuitos! Sabrina

-Sabrina, CA

I just got my BubbleBuns boyshorts in the mail and was way too excited about trying them on. I knew I had my hopes WAY too high (after reading most of the feedback on here), but after trying them on, I was just overwhelmed with happiness! You don't understand how self conscious I am about my butt and I've had to forego buying certain clothing that I loved (like skirts and dresses) because my body just didn't look good in them. Now, I feel like I can wear anything and it'll look good! It looks amazingly natural, and the thin pads aren't all that noticeable (but still enough to add that curve). The thick pads are noticeable but so natural-looking, so I suggest buying both.

I first bought a Small (because I normally wear S or XS underwear) but had to change it for a Medium, so I'd probably get a size larger than normal. I just want to thank you, Bubbles Bodywear, for mastering your craft and providing exceptional products and service!

-"C4L (Customer for life)"...this is the actual signature that the customer put on her feedback form! Cute!!

[BubbleBuns] The past two years I've been suffering from extreme digestive problems and have lost a lot of weight, including ALL my curves. I thought my last hope to get my body back was surgery, which i did not want to do, considering I'm only 19 and it is pretty expensive. Then one day while googling for one last sign of options I accidentally came across this website and i was skeptical, but my self esteem was so low i gave it one last shot and bought the bubble buns boy shorts. When I received them I was nervous to try them on because all the disappointment and wasted money i had already went through. But. . . . I'm wearing them now and never want to take them off! I had no butt what so ever, so I really thought that people would be able to tell i was wearing them, but it looks so natural. I even wear them with jogging pants and you cant tell. I'm amazed and so thankful for the dedication ya'll have put into your product. You can really tell you actually care about the people who come to you for help. My self- esteem is now on cloud 9! I will definitely be a forever customer and plan on ordering more very soon. Anyone who is skeptical of this website and its product, don't be, you will not be disappointed. I no longer have to wear those long shirts or loose baggy jeans to cover up my flat butt. I've been really depressed due to my current illness and could never thank you enough for giving me a light to hold while waiting in the dark. I HAVE A BUTT AGAIN!

-Courtney, TN

I would give a big hug to whoever invented these! Wonderful doesn't even describe the feeling I get when I put these bubble buns on. I've always been flat as a pancake but now I have so much confidence to walk into a room and know that people are checking out my booty! Ladies you have to buy the extra foam pads to get the full effect, plus I bought the silicone pads in case I wanted someone to feel up on my booty! I did a lot of research before I purchased anything and this website had great reviews, plus they ship super fast! Now my friends want to order some!

-Keisha, GA

I have been ordering your products for sometime and really have enjoyed looking like I have a behind now instead of spending $8000. Your company is very responsive and very prompt in shipping customers products. Keep up the good work; that's what make customers happy.

- Pamela, LA

[BubbleBuns] I CANNOT believe I received my Bubbles boyshorts yesterday!! I JUST ordered them!! I found your company by doing a random web search, and I'm thankful I did. I have always been so embarrassed about a flat behind that I would wear long shirts/jackets or tie something around my waist to cover up the area. I tried on the boyshorts with jeans, and wow. My family couldn't believe it! I cannot wait to wear them in public. Do they come in pink?? I think you should advertise more to let everyone know about your products. Need to go on the Rachel Ray show too!! I will be buying more of your products. Thank-you for helping women all over the world feel more comfortable in their skins.

-Michelle, OH

I originally purchased the low rise caboost and my butt looked amazing. I went out dancing and some times guys like to touch your butt so I was little uncomfortable because they would probably realize it was padding. I decided to buy the double-o highwaist. Once again, I looked even more amazing because I also had tummy control. I am 40 years old and my clothes have never fit me this great before. I am bragging and recommending you to all my friends who want that lifted, younger look. I've sent my facebook friends a message and told them to visit your website. One friend said she has seen several things she wanted and will be ordering them soon. Thank you so much.

-Ms. Smith, Jackson, MS

OMG!!! I ordered my bodywear Saturday at about 1:00 A.M. and I got it today which is Monday wow!!! I love the product and plan to order some colors tonight and one for my daughter who has been sick since age 9 and has some image issues. I'm sure this will improve her issues as a now 15 year old without all of the curves as her peers. Thanks soooooooooooooo much keep doing what you are doing I am very pleased . For the buyer it looks real in everything I put on!!!!!!

-TH, AR

I just wanted to let you know a co-worker and I gave another co-worker a couple of padded underwear this Christmas. I know what you are thinking "how weird", but our friend has cancer. She has undergone treatment and has lost weight especially in the rear-end. She mentioned how much her rear hurt when she sat down...she felt like she was sitting on her bones. She LOVES THEM!!! So did her husband. She was so happy and says Bubbles bodywear helped so much. So, THANK YOU for making my friend happy and comfortable.

-Adriana, CA

Wow, the speed of getting my order into the mail is impressive. Thanks,

-Diane, Canada

[BubbleBuns] I just want to say I absolutely looove my lovemybubbles boyshorts! OMG they are amazing because most padded panties sit really high, and i have a really loooong waist, but not these because they are boyshort they sit at my natural waist. Not to mention...the panties are actually CUTE! Being a women of color I am expected to have a "donk" and i have always been self conscious about my behind!....I just to thank to all for making trendy padded panties in many sizes, and many styles! i love them!

-Noell, GA

...didn't really expect it to be refunded but was hopeful. Thank you so much for the refund and I will definitely continue to shop your site because you guys have been so wonderful in this process. Again, I appreciate all that you have done and all of your help!

-Paulette, CA

[BubbleBuns] Omg!!!!! I just got my package and I put my bubbles boyshorts on and I literally almost fainted!!!! I am sooooo happy with them and they make my booty look so round and bubbly. You have no idea how much this means to me because everyone use to make fun of my flat butt and I would literally cry over it. I was going to get butt implants but now that I have these shorts, I would never get plastic surgery. Thank God I found your website because my butt looks amazing and my waist looks smaller. Thank you thank you thank you!!!!

-Michelle, CA

THANK YOU SO MUCH. Your customer service is AWESOME

-Mary Ann, CO

I was a little apprehensive order the bubblebuns. With funds being low, I decide to take the plunge. The order came quickly!. I wore them to work and I have secured so many compliments. More importantly, my husband has been all over me. Thanks for such a great product. Keep them coming

-Randi, GA

To Katie, You have a customer for life and I will continue to recommend your products to all. My doctor (plastic surgeon) Loves My Bubbles!

-Cedra, USA

Once again,Thanks So Much! These days it's certainly a pleasure doing business with a company like yours.

-Karen, IL

I want to thank you for being so very helpful...you don't find customer service like this anymore.

-Vickie, USA

I Luvvvvvvvv My Caboost!!! LOL I also have the Bootiful BoyshortsWas 1 of my first purchases!! I just ordered silicon...Can't wait 2 getem'.... I Will Continue 2 Come Back Great Customer Service & Supa Fast Shipping;

-D.B., Michigan

BK gotta tush...yheeee. I could not wait to try on my boyshorts and silicone padded panties, which I collected yesterday. They are awesome and I fit perfectly in pants, more especially dresses now. Bubbles you saved me. Great service by the way! Happy customer from South Africa.

-B.P., South Africa

I just received my Bootiful Boyshorts in the mail yesterday! I OFFICIALLY HAVE A BOOTY FOR THE FIRST TIME IN MY LIFE!!!! I love the freaking things!! I'm gonna order lots more! It's amazing how comfy they are! Thanks a million!

-Brandi, Oklahoma

Thank you very much. It's nice to deal with a company that you don't have to jump through hoops to get service. I will certainly have no hesitation to deal with your company again in the future.

-Vera, CA

i think these are a great alternative to crazy things like surgery. i love them and would recommend these products to anyone A+++

-Bridgette, FL

WOW!!!! YOu guys r the best!!! I just sent the [exchange] item earlier this week!!!!!! Thank You !!!

-Sandra, CA

I have been wearing your products for a couple of years now, and I love everything I've tried! I have also had several great experiences with your customer service.

-Leigh, GA

Thanks a lot, your service levels are outstanding.

-Thaslima, UK

[Double-OTM Panty] I received my order today. I opened the package and tried it on immediately. I am overjoyed with the product. I had some doubt that it was not going to be what it claimed to be, but I wanted to give it a try. I will definitely be ordering more items as I have found that the quality of your product is excellent. I tried it with my jeans and I was surprised not only did it look great it was not uncomfortable. I have not had the opportunity to wear my product publicly yet. But I know I look so much better and that makes me feel beautiful. I cannot wait to see others reactions I have been looking for a product like this for years and I would recommend it to my friends. However, Most of them were not as bottom challenged as I am (was (smile) To be honest, I am struggling with telling anyone my secret because I want to show off with out them knowing why I look better. But I will share my new found treasure with other I do like to help other people. I must add that you have outstanding customer services. Again Thanks.

-Nina, USA

Just wanted to shout out a big "thank you" for your many products and easy shipping to Canada! Due to a medical emergency, I lost 50 percent of my body weight and felt embarrassed at the gym when trying to regain muscle. Spandex looks horrible on a flat behind and even my trainer jokingly called me "cliff". I am amazed at how natural and sexy the padded panties look, even under work out gear! They gave me the confidence I needed to get back in shape and now I wear them daily because you can't help but love the look of a great behind. I know I'm probably not your target market, but I have spread the news to so many ladies in physical rehab and everyone loves them! Of course, my sisters and friends are loving the boost too! I even gave them away as much treasured Christmas gifts. Thanks again, this product has really "boosted" my health and fitness!

-Lynn, Canada

[Foxy Fanny] First let me say I LOVEEEEE your product. I have lived 48yrs being uncomfortable with my lack of behind. You guys are the best thing that has happened to me. I should be a sales rep for you guys. I am telling everyone (I know lots of people with flat behinds) and they are all placing orders. I have been carrying my padded panty in the car because everyone wants to see it before they order. I model it for them so they can see me before I put it on and after. I wore it to church and my fellow ushers couldn't believe how natural it looked and felt (yes, they had to touch it) God bless you. Feel free to post my review.

-Sandra, MI

Have you tried Bubbles yet? If so, send us your review! Don't worry...your secret is safe with us! We will post your comment anonymously if requested, or by the signature that you provide in your review.


I've been wearing bubbles bodywear for about two years. This company has NEVER let me down. I even tried a different company and it was a huge disappointment. I buy all the time and enjoy the emails with new products. I love the attention I get from men when I wear these. I have all kinds and mix and match from time to time. I am addicted. I cant stop wearing my pads. I love the "Nicki Minaj" look I have created on myself using the pads. Thank you love my bubbles. Sincerely, Repeat Customer.

-B.J., MD


I absolutely love my bootiful padded boy shorts. After my third child, by backside was seriously saggy! This product allowed me to look normal in my clothes again! My jeans fit better than ever and I have never felt more womanly. I will be ordering more. Thanks!

-Leslie, NJ

I was not blessed with much of backside, then two years ago I was diagnosed with cancer, I went from 172 lbs at 5'10 in height down to 98 lbs and needless to say I was embarrassed to even go out...now that I have been blessed with feeling much better, but unable to gain much weight back now only 122 lbs, I decided to try this product with the thick removable foam pads! I so love this product it has given me back some of my confidence! They look very natural! I will continue to order from your company in the future!

-Pammy K., KY


[BubbleBuns] I am giving the boyshort a 4 because 5 would mean that it had the higher lace waist like the retro and pads that sit just a little higher. But the boyshort paired with the thigh leg bands gives me exactly the look I want in jeans. Great products!!!!!!!!!!

-Teresa D., MN

Page 1 | Page 2 | Page 3
*Jane Doe is a nickname we use for customers who gave us permission to post their comment but did not want their names revealed.