Page 1 | Page 2 | Page 3
[Foxy Fanny] I pray God's blessing on you and you business. You know the importance of satisfying your customers. Not only that but you take suggestions and make them happen. I am a full figured African American women who takes pride in my appearance. I went to a party on Saturday and even my 85yr old uncle said hey girl you looking good from the back.

...Sandra, MI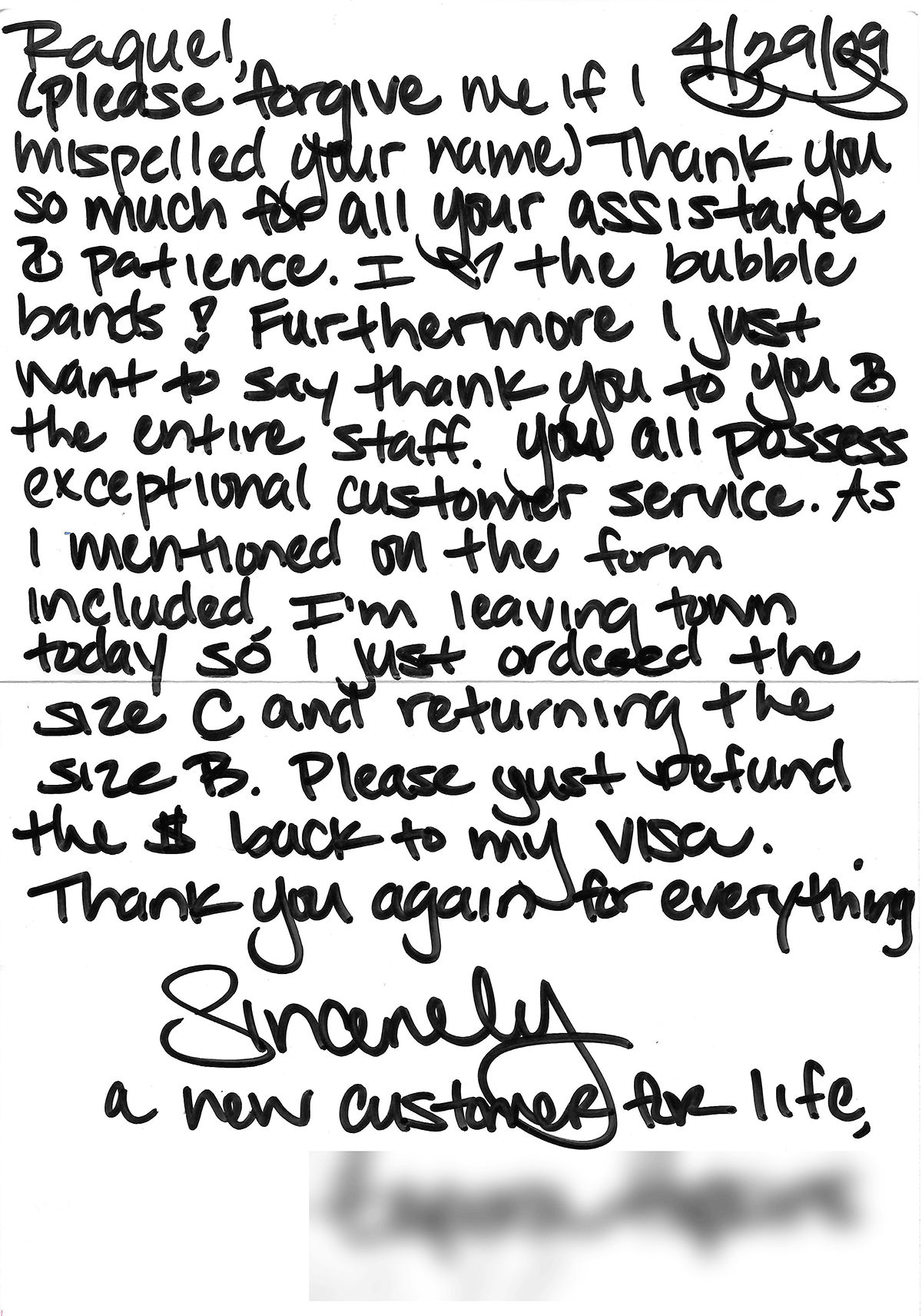 [Foxy Fanny] OoooooooooMmmmmYyyyyyyGOOOOOD bubble my love i have search for you for the past 44yrs now i'have found you and you are exactly what i was looking for foxy fanny i'm loving it.I will continue to seach for more and more for ever

-Betty, Madrid, Spain

thank you for all ur assistance it is greatly appreciated...Thanks again for all your assistance and i hope to be dealing with ur company again very soon.

...Mags, Ireland

I want to say good choice on using UPS or USPS, I have never had a problem with them! My package arrived on time and not damage. FedEx I cant say the same for. I just placed and order for a product I could have bought from you guys but bought from another company that chose FedEx. I will never buy from them again I will use you guys from now on, Just cause you use UPS. the order was in April, but I'll be back for more around October my moms Birthday!

-Brittany, WV

I would like to thank you for such a speedy delivery, that was real quick. AND I LOVE mybubbles. ;o)

...Patricia, New York

I RECENTLY PURCHASED YOUR "BETTIE" and "VERONICA" SHAPEWEAR. IT'S EVERYTHING YOU CLAIMED, THE HIGH WAIST OF THE "BETTIE" DOES NOT ROLL DOWN and ALSO VERY COMFORTABLE and COOL....THE DESIGN OF THE LEG ON THE "VERONICA" IS WIDER and VIRTUALLY INVISIBLE.

...Diana, Louisiana

"I'm a boy and love to wear bubbles. I went for a mani/pedi with some girlfriends and they all noticed how "up" my butt was. When I told them, they were like, "oh my god!" they made me get up and show the whole salon--it was sooo fun:). They have all purchased bubbles too and love the responses/attention they've received."

...Adam K., New York
I bought a Bettie and really like it..having tried many Spanx and similar brands I find the Bettie to be the best especially with the top band and it NOT rolling down...thanks for a neat product!

...Anonymous

"Hi, Wow! I received my bubble Bands package about a week ago and couldn't be happier! They fill out my jeans so incredibly well and I'm not embarrassed to stand up or walk by someone! This product is great! Thanks for such a brilliant idea!"

...Erica, Virginia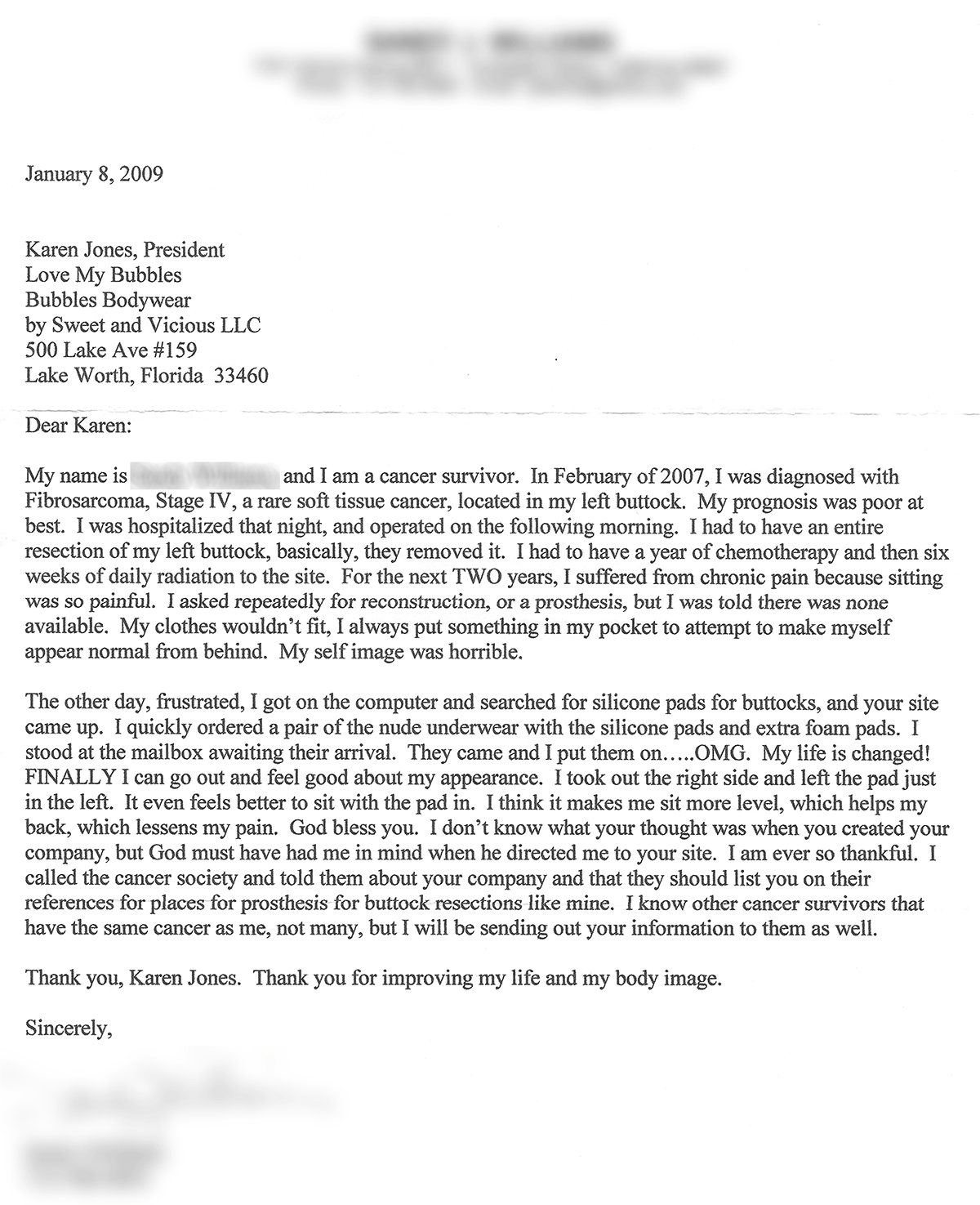 Thank you so much for this wonderful and useful invention. As someone with a great bubble butt disproportionately and larger thighs this really solves some of my worries:)

...Sheen, Massachusetts

"Thank you for your product "The Bettie" I had bought spanx to wear under my wedding gown since I was going to be bloated from my time of the month. Spanx totally flattened my butt so I needed something else that would help with the shaping while not ruining the shape of my rear. My wedding gown was a Trumpet style so it was important that I look my best. Your product really worked and saved the day!!!!"

..."Colleen", New York

"These things are incredible. I didn't think they would work for me. I have thighs that exceed measurements on the size chart. I feel so confident. I honestly went from saggy and droopy to oohwee she's got BOOTY!!!"

..."junk in the trunk", Ohio

Did you know that 70% of Bubbles orders are a result of friend referrals? When girlfriends spread the word about their favorite products, you know just how great they are!
My fiancee' has absolutely no rear end. I bought the Bettie for him, he looks great in it and surprise...he likes it!

...Anonymous
I just have to tell you again that you are SO terrific, I just LOVE the ThighShapers!! I have to admit that when I initially heard of the product, I thought to myself 'Yeah right! There is no way Bubbles can be that great.' But I decided to get the Bubbles ThighShapers...and when I put them on, I just couldn't stop looking at myself in the mirror - they are fantastic oh my gosh! They really smooth my legs out, and they make my butt look SO good - really firm, lifted and most importantly - *fuller*!!! Before I had the Bubbles, I was really self-conscious in tight jeans because my butt looked really small and flat, but now I look so awesome in tight jeans!! I wear the most skin tight jeans that I can find...and with confidence now!!! I will be a life long customer FOR SURE!!

...Antoinette S., California
When I got my bubble bands I tried them on right away. My fiance was downstairs watching tv and his eyes kept following me behind. I am VERY Top heavy, so I am used to his eyes glancing at my front, not my behind. These work really well if you wear them with tight pants or jeans. Thanks bubbles!

...Kimberly, Texas
First: you guys are AWESOME with shipping. The fastest shipping I've ever recieved purchasing something online. And the Bubbles...! I'm used to my boyfriend teasing me for being the only black woman either of us know without a butt, so it was quite a welcome change for him to comment on how bootyful I looked in my new jeans. THANKS SO MUCH!

...Jan, Michigan
"I will be placing another order soon!! omg!! i get WAYYY more attention when i wear the bubbles..... I luv them thank u!! and my boyfriend noticed, when i got up he was like where u goin with all that butt LOL!! and he doesnt know about them. i could never repay U! i know it would cost thousands of dollars for a butt lift lol!!!"

...Tamara, Michigan

Some feedback from our EBAY outlet store...
IM BRINGING SEXY BAQ!! PHAT BOOTY...ALL THE GUYS ARE STARING, THANKS TO BUBBLES!
[The Bettie] does the trick! I can wear my pre-pregnancy clothes!
>> LADIES YOU MUST TRY THIS << THEY WORK >> EXCELLENT SELLER & FAST SHIPPING
Love my Bettie! Thanks for the fast ship, too!
Great Seller-Highly Recommend-You'll love products!
Oh my Gosh !!! IT WORKS !! Thank you so very much !!
Recieved item quickly, it's awesome! Thank you! Great Seller!
Great shape product just as described.
Great product and service!
Great product and fast shipping.
I literally hopped around my bedroom for 10 minutes trying to pull up the bettie. I thought I would have it return it for a bigger size. But once I got it on it felt like a second skin. Forgot I was wearing it shortly after. miracle product!

...Nicolette, South Carolina

I went to a Christmas party this year and had the problem of my straps showing (after buying 3 bras and ultimately the one I wore that evening had straps that didn't stay in place) so I came up with a great idea of a clip that would work with any bra. When I did a search, I found your brand. Congratulations - you beat me to it by 3 years! I wish all of the best and much success to you. It's great that you are donating some of the proceeds to cancer research. And you will be saving us working moms without a lot of extra time or money to search for that perfect bra! ...April, Massachusettes
I just wanted to say thank you so much. I got the product and I love it! People have already been giving me compliments about my 'assets.'

...Jamie, Toronto, Canada

This is what I want my butt to look like from working out! This is great!

...Jane Doe*, Georgia

Yes I'm one of those girls that [everyone] makes fun of because I don't have a butt. Well guess what - now I do thanks to my bubbles. HAHA!! Thank you for literally saving my [bleep] :)

...Arlene, Georgia

I WOULD LOVE TO BE ABLE TO PURCHASE THIS PRODUCT ON A REGULAR BASIS IN MY AREA. I LIVE IN [bleep], PLEASE START MARKETING THEM WORLD WIDE! I think this is a really great product you guys have here and I think a lot of women would love to have this product available with the convenience of simply going to the local mall or department store and picking a pair up! I can't wait to get to try them myself!

...Angi, Pennsylvania

I received my bubbles yesterday. I love it. Thanks :)

...Marisol L., New York

It really works. I didn't think it would but it really does!

...Cathy M., Florida

Page 1 | Page 2 | Page 3